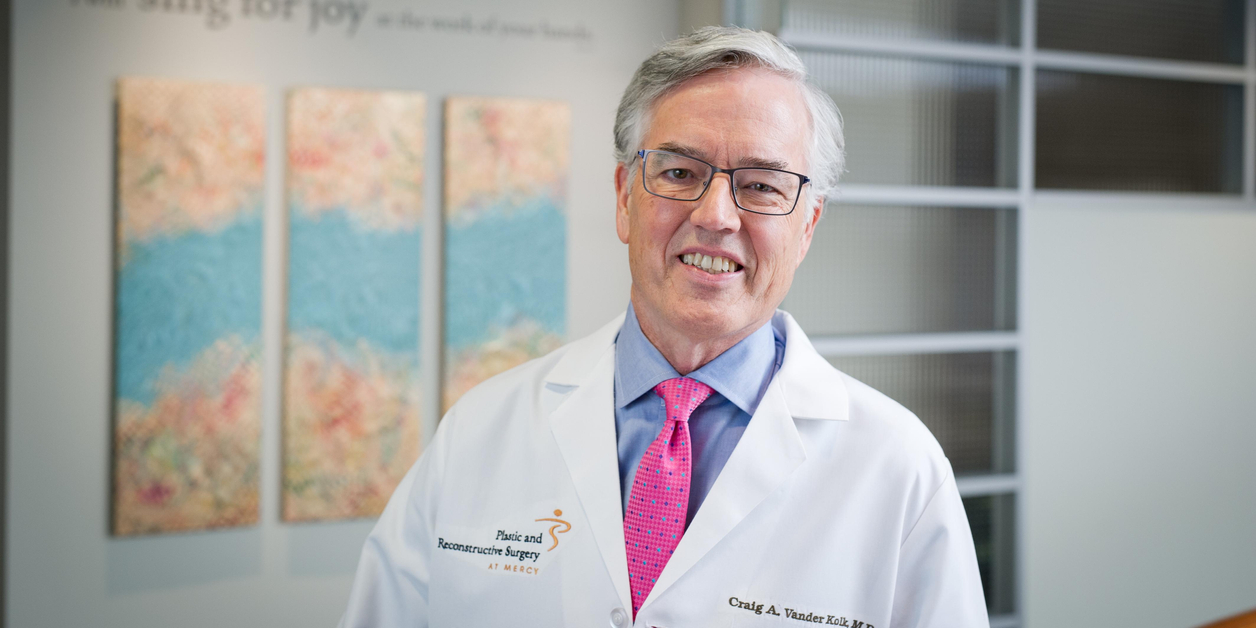 Director, Cosmetic Medicine and Surgery at Mercy
Specialty:
Plastic and Reconstructive Surgery
Areas of Interest:
Reconstructive Surgery, Facial Surgery, Cosmetic Medicine and Plastic Surgery
Locations:
The Weinberg Center at Mercy
Mercy Personal Physicians at Glen Burnie
Mercy Personal Physicians at Lutherville
Cosmetic Medicine and Surgery at Annapolis
Craig Vander Kolk, M.D.
As Director of Cosmetic Medicine and Surgery at Mercy and Associate Director of Plastic & Reconstructive Surgery at Mercy in Baltimore, Dr. Craig Vander Kolk, applies his top rated skills and clinical expertise in reconstructive surgery, particularly facial surgery, cosmetic medicine and plastic surgery. Working with Drs. Bernard Chang and Brendan Collins, he helps women choose procedures and treatment options that help them gain or regain their confidence in themselves.
Dedicated Plastic Surgeon
Dr. Craig Vander Kolk offers general cosmetic medicine treatment options, plastic surgery procedures and specialized care for:
Aesthetic Facial Reconstruction
En Bloc Capsulectomy
Dr. Vander Kolk is committed to helping women define their cosmetic and plastic surgery needs in order to achieve their desired look. His work includes surgical and non-surgical techniques, including natural approaches such as skin products that offer patients customized treatments and natural-looking results.
Dr. Craig Vander Kolk is among a limited group of surgeons providing highly specialized surgical services. He offers unique skill in treating embouchure injury for musicians who play brass instruments. He also is a widely-recognized pediatric plastic surgeon specializing in the reconstruction of cleft lip and palate in children.
Author and Expert Specialist
Dr. Vander Kolk has authored numerous articles and publications in his specialty for high-quality medical publications such as:
Aesthetic Plastic Surgery
Clinics in Plastic Surgery
Journal of Craniofacial Surgery
Microsurgery
Plastic Reconstructive Surgery
Surgical Forum
Local and National Recognition for Surgical Skills
Dr. Vander Kolk has been recognized as:
"America's Best Plastic Surgeons" - Newsweek magazine
"Top Doctor" in the fields of Plastic Surgery and Pediatric Plastic Surgery, Baltimore magazine
One of "America's Top Doctors" by Castle Connolly Medical, Ltd.
"Best Cosmetic or Plastic Surgeon" - The Daily Record's Reader Rankings Awards
His research in craniofacial and plastic surgery is internationally recognized and he is a top-rated presenter at medical conferences on plastic surgery.
Education & Fellowships
Fellowship - Hand and Microvascular Surgery, St. Vincent's Hospital, Australia; Craniofacial Surgery, Children's Hospital of Philadelphia, University of Pennsylvania
Residency - General Surgery, University of Michigan Medical Center; Plastic and Reconstructive Surgery, University of Michigan Medical Center
Medical Degree – University of Michigan School of Medicine


Associations & Memberships
American Board of Plastic Surgery
American Society for Aesthetic Plastic Surgery
American Society of Plastic Surgeons
Plastic Surgery Research Council
See a list of insurances accepted at Mercy. Restrictions may apply. Patients should confirm coverage with their carrier prior to appointment date.