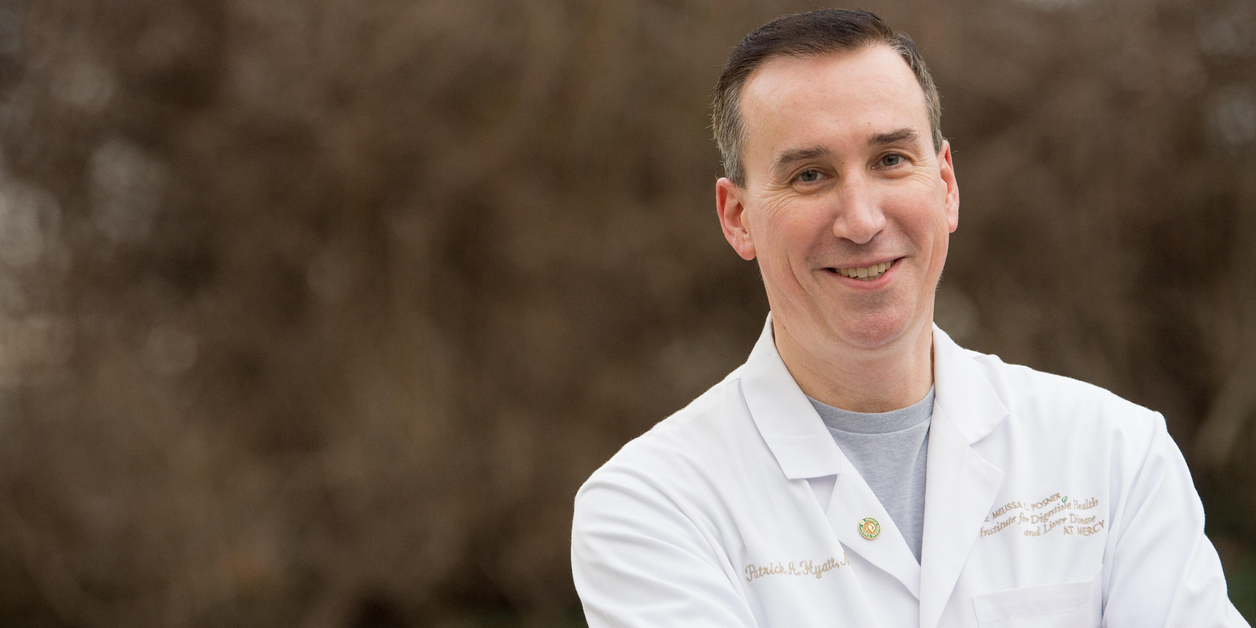 Director, The Center for Heartburn and Reflux Disease
Areas of Interest:
Heartburn, Acid Reflux/GERD, Diseases of the Esophagus
Locations:
McAuley Plaza at Mercy
Mercy Personal Physicians at Lutherville
Mercy Personal Physicians at Overlea
Patrick Hyatt, M.D.
Patrick A. Hyatt, M.D., is a highly skilled specialist and Director of The Center for Heartburn and Reflux Disease in Baltimore, Maryland, which is part of The Melissa L. Posner Institute for Digestive Health & Liver Disease at Mercy. The Center is dedicated to preventing and treating diseases of the esophagus.
Dr. Patrick Hyatt has advanced training in therapeutic endoscopy providing patients with sophisticated expertise and treatment for gastroesophageal reflux disease or GERD, heartburn and other disorders of the esophagus including swallowing disorders. Patients trust Dr. Patrick Hyatt for thorough diagnosis and clinical excellence, and they are grateful for his encouragement and understanding that give them hope for a better tomorrow.
Comprehensive Treatment for Heartburn and Reflux Disease
Working with other gastroenterologists of The Institute for Digestive Health & Liver Disease, Dr. Patrick Hyatt uses leading edge treatment options including specialized studies that monitor the function of the esophagus to relieve heartburn pain and prevent diseases of the esophagus such as esophageal cancer or Barrett's Esophagus. The expertise of this team of doctors makes Mercy Medical Center among the best in the Mid-Atlantic region in the diagnosis and treatment of digestive diseases. If esophageal cancer is diagnosed, the physicians work with the surgical, medical and radiation oncologists of The Institute for Cancer Care at Mercy to provide comprehensive treatment and a seamless transition in care.
Lecturer and Published Author
Board Certified in Gastroenterology, Dr. Patrick Hyatt has delivered many presentations on topics such as endoscopic management and chemoprevention of colon cancer in his career and has published with The American Journal of Gastroenterology.
Education & Fellowships
Fellowship – Gastroenterology, Brown University, Rhode Island
Residency – Brown University, Rhode Island
Medical Degree – Temple University School of Medicine, Pennsylvania
Associations & Memberships
American College of Gastroenterology
American Gastroenterological Association
American Society of Gastrointestinal Endoscopy
See a list of insurances accepted at Mercy. Restrictions may apply. Patients should confirm coverage with their carrier prior to appointment date.