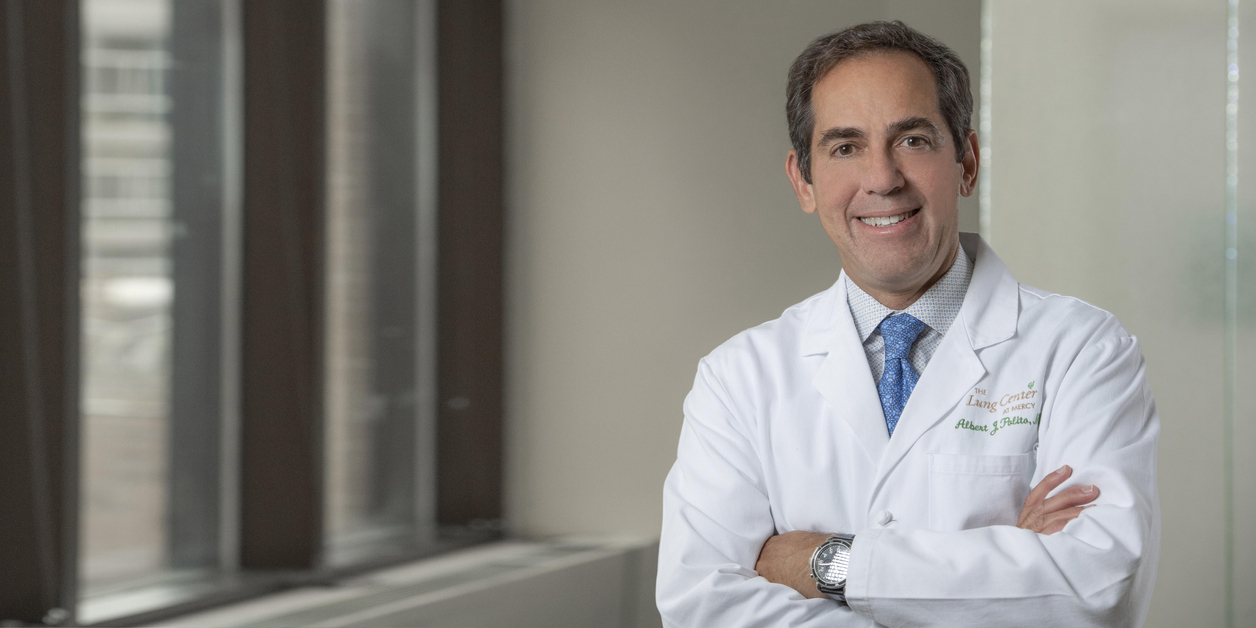 Medical Director, The Lung Center at Mercy
Specialty:
Pulmonary and Critical Care
Board Certifications:
Pulmonary Disease
Critical Care Medicine
Internal Medicine
Areas of Interest:
Asthma, Chronic Obstruct Pulmonary Disease (COPD), Interstitial Lung Disease, Lung Cancer, Pulmonary Hypertension
Albert Polito, M.D.
Albert J. Polito, M.D., Chief, Division of Pulmonary Medicine and Medical Director for The Lung Center at Mercy, leads a highly skilled clinical team of pulmonologists. Our lung doctors manage a comprehensive range of lung disorders with particular expertise in COPD, lung cancer, interstitial lung disease and sleep disorders.
Dr. Polito's area of expertise includes interstitial lung disease, pulmonary conditions, asthma, COPD, lung cancer, occupational lung disease, pulmonary hypertension and pulmonary infections.
Leadership with Compassionate Care
Dr. Albert Polito leads The Lung Center at Mercy and provides patients with advanced diagnostic methods and treatments for lung disorders. Patients trust Dr. Polito for his clinical expertise and find comfort in his approach. His patients value that he listens, answers their questions and helps them better understand their condition.
Dr. Polito manages patient care, working closely with the specialists of The Institute for Cancer Care at Mercy and Interventional Radiology at Mercy. This coordinated approach to the care and treatment of lung disorders, and the knowledge of our specialists makes The Lung Center at Mercy among the best in Baltimore and the Mid-Atlantic region.
Lecturer, Published Author and Humanitarian
Dr. Albert Polito, Board Certified in Pulmonary Disease Medicine, Critical Care Medicine and Internal Medicine, is widely published and has lectured extensively on a national level. He was named "2011 Humanitarian of the Year" by the Mildred Mindell Cancer Foundation. Dr. Polito has numerous awards to his credit, including being named as one of Baltimore's "Top Doctors" by Baltimore magazine numerous times.
Education & Fellowships
Fellowship – Johns Hopkins University School of Medicine
Residency – Bellevue Hospital and New York University Medical Center
Internship – Bellevue Hospital and New York University Medical Center
Medical Degree – New York University School of Medicine
Associations & Memberships
American College of Physicians
American College of Chest Physicians, Governor
See a list of insurances accepted at Mercy. Restrictions may apply. Patients should confirm coverage with their carrier prior to appointment date.