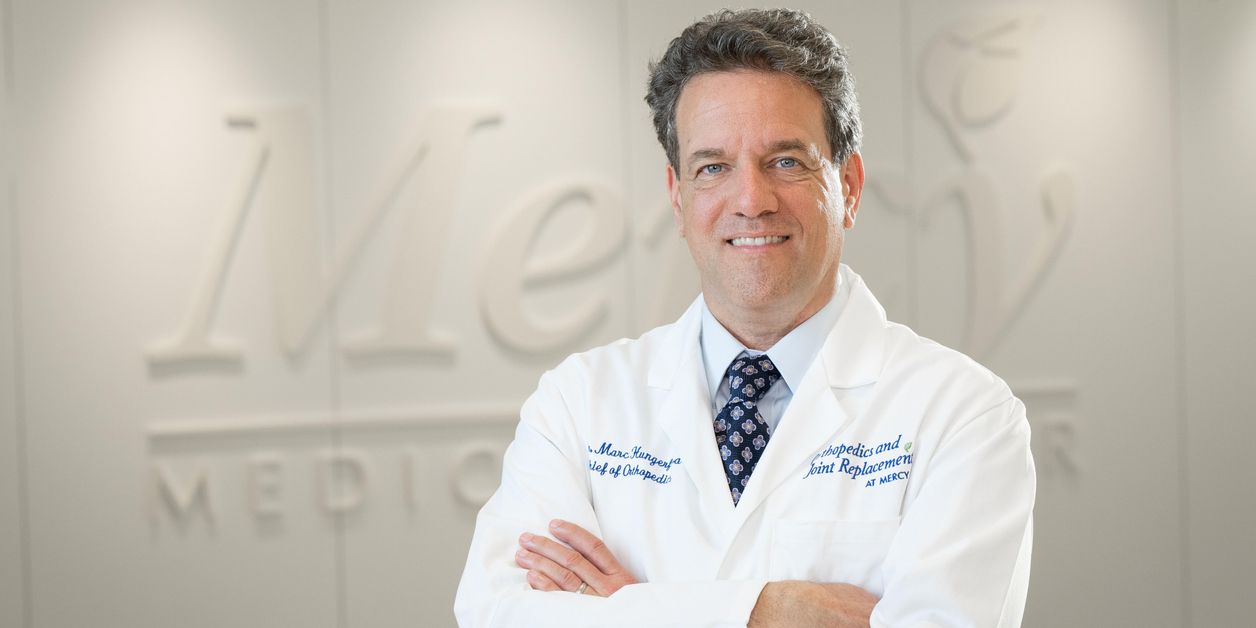 Chief, Division of Orthopedics
Specialty:
Orthopedics and Joint Replacement
Orthopedics
Areas of Interest:
MAKOplasty, Anterior Hip Replacement, Hip and Knee Preservation, Reconstruction, and Revisions, Arthroscopy, Arthritis, Avascular Necrosis, Minimally Invasive Joint Replacement
Locations:
McAuley Plaza at Mercy
Mercy Personal Physicians at Lutherville
SurgCenter of Towson
Marc Hungerford, M.D.
Marc W. Hungerford, M.D., Chief of Orthopedics at Mercy Medical Center, is a top rated orthopedic surgeon specializing in adult joint replacement, including hip and knee replacement. Patients from across the Baltimore region seek Dr. Hungerford's expertise in performing MAKO knee resurfacing and anterior hip replacement. Board Certified, Dr. Hungerford is committed to finding and implementing the best possible orthopedic treatment options and is known for his clinical and technical precision. Patients rely on Dr. Hungerford's leadership in raising the bar of excellence in orthopedic care to help them return to their everyday activities.
Leader in MAKO Knee Resurfacing
Dr. Marc Hungerford is the first orthopedic surgeon in Maryland to perform MAKO, a minimally invasive partial knee procedure powered by the RIO® Robotic Arm Technology. Patients suffering from osteoarthritis in the knee seek Dr. Hungerford's orthopedic expertise to help them find relief and return to daily activities.
Dr. Hungerford is also among the first in Maryland to offer MAKO Total Knee Replacement. MAKO total knee replacement provides the same precision and accuracy as MAKO's partial procedure and offers patients with severe joint degeneration the opportunity to reclaim a natural range of motion in the knee.
Anterior Hip Replacement Expert
Dr. Marc Hungerford is one of the first orthopedic surgeons in Maryland to perform anterior hip replacement. This innovative, minimally invasive technique gives Dr. Hungerford the ability to perform hip replacements with a smaller incision and shorter recovery time, often getting patients back to their normal routines faster.
Dedication to Advancing Patient Outcomes
Dr. Marc Hungerford is dedicated to providing patients the best opportunities to have successful outcomes for their hip and knee replacements. Dr. Hungerford, who also serves as Director of Joint Replacement and Reconstruction, was integral in launching The Joint Journey at Mercy. This patient-centered program guides and educates patients throughout the hip and knee replacement process – from pre-operative to post-operative care with a goal of faster recovery and return to normal daily activities.
Top Rated Orthopedic Surgeon
Dr. Marc Hungerford has been recognized for his expertise and leadership in orthopedic surgery and dedication to providing the best possible outcomes for his patients by being named:
"Top Doctor" by Baltimore magazine
Top Doctor by Castle Connolly Media through U.S. News & World Report


Education & Fellowships
Residency – Johns Hopkins University Hospital, Baltimore, MD
Internship – Vanderbilt University School of Medicine, Nashville, TN
Medical Degree – Vanderbilt University School of Medicine, Nashville, TN
Associations & Memberships
American Academy of Orthopedic Surgeons, Fellow
American Medical Association
American Association of Hip and Knee Surgeons
ARCO
National Osteonecrosis Foundation
Maryland Orthopedic Association
Southern Orthopedic Association
See a list of insurances accepted at Mercy. Restrictions may apply. Patients should confirm coverage with their carrier prior to appointment date.