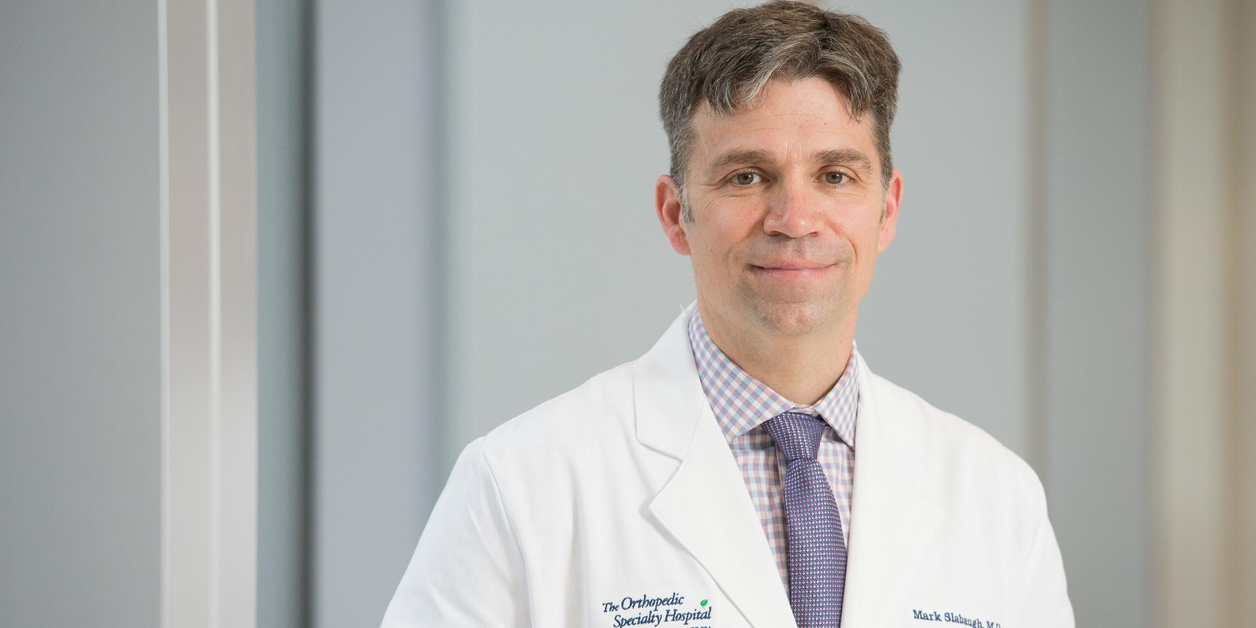 Specialty:
Sports Medicine
Orthopedics
Board Certifications:
Orthopedic Sports Medicine
Orthopedic Surgery
Locations:
McAuley Plaza at Mercy
Mercy Personal Physicians at Lutherville
Mercy Personal Physicians at Overlea
Mercy Personal Physicians at Reisterstown
Mark Slabaugh, M.D.
Mark A. Slabaugh, M.D., is an orthopedic sports medicine surgeon with Orthopedics and Joint Replacement at Mercy Medical Center in Baltimore, Maryland. Dr. Slabaugh is Board Certified in Orthopedic Surgery and Orthopedic Sports Medicine. He specializes in arthroscopic repair of sports-related injuries and complex knee and shoulder reconstructions, including ACL/MCL tears, shoulder instability and rotator cuff tears.
Dr. Slabaugh serves patients and families of central Maryland, with office locations at Mercy Personal Physicians community-based facilities in Lutherville, Overlea and Reisterstown, as well as Mercy Medical Center in Downtown Baltimore.
Sports Medicine Physician Providing Specialized Care
Dr. Mark Slabaugh provides comprehensive treatment of sports and exercise related injuries, from overuse conditions such as bursitis, tendonitis and tennis elbow, to fractures and ligament tears. He has a particular focus in complex surgical reconstructions, including knee arthroscopy and total shoulder replacement.
Individualized Orthopedic Care for Every Athlete
Dr. Slabaugh treats athletes and active individuals of all ages, including youth and collegiate athletes, avid runners and weekend warriors. He works closely with each patient to develop individualized treatment and recovery plans, aimed at getting them back to their chosen sport or activity.
Throughout the treatment process, Dr. Slabaugh collaborates with colleagues and rehabilitation specialists while guiding patients through recovery and encouraging future prevention and care.
Experienced and Honored Military Surgeon
Dr. Slabaugh is a retired Colonel from the Medical Corps of the United States Air Force. During his tenure in the military, Dr. Slabaugh served a number of notable appointments, including President of the Society of Military Orthopedic Surgeons and Chief of Orthopedics at Andrews Air Force Base. His military career includes active duty assignments around the world with deployed tours to Iraq and Africa.
A highly experienced orthopedic surgeon, Dr. Slabaugh previously served as Chief of Sports Medicine for the United States Air Force Academy (USAFA) where he was responsible for the team physician coverage for 27 Division 1 athletic programs. At USAFA, he was the head team physician for the USAFA football, baseball and men's/women's basketball teams. He has served as committee and board member on a number of prestigious organizations, including the American Academy of Orthopedic Surgeons and the Arthroscopy Association of North America. He also serves as Associate Professor of Surgery at the Uniformed Services University of the Health Sciences, and has numerous awards, publications and presentations to his credit.
Education & Fellowships
Fellowship - Rush University Medical Center, Chicago, Illinois
Residency - Wilford Hall Medical Center, Lackland Air Force Base, Texas
Medical Degree - Uniformed Services University of the Health Sciences, Bethesda, Maryland
Associations & Memberships
American Academy of Orthopedic Surgeons
Society of Military Orthopaedic Surgeons
Arthroscopy Association of North America
American Orthopaedic Society of Sports Medicine
See a list of insurances accepted at Mercy. Restrictions may apply. Patients should confirm coverage with their carrier prior to appointment date.