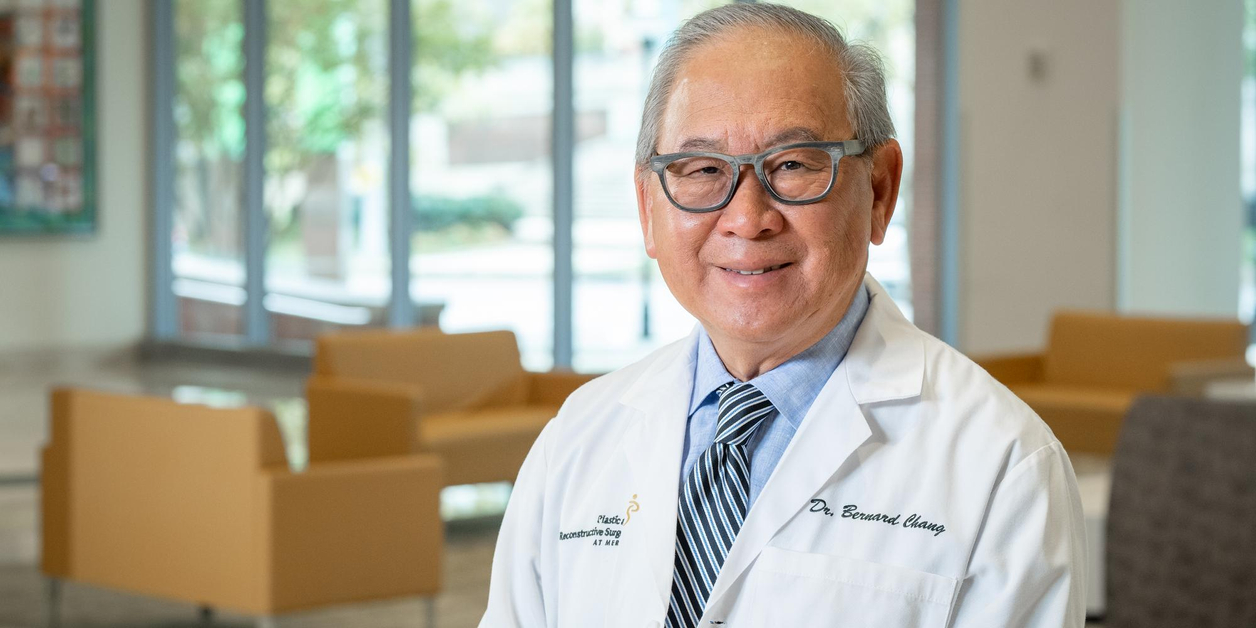 Bernard (Bernie) Chang, M.D.
Director, Plastic & Reconstructive Surgery at Mercy
Specialty:
Plastic and Reconstructive Surgery
Areas of Interest:
Breast Reconstruction, Cosmetic Surgery
Locations:
The Weinberg Center at Mercy
Bernie Chang, M.D.
Bernard (Bernie) W. Chang, M.D., Director of Baltimore's Plastic & Reconstructive Surgery at Mercy, also leads The Breast Reconstruction and Restoration Center at Mercy. Dr. Bernie Chang is Board Certified in Plastic Surgery and General Surgery. He pioneered and advanced surgical treatment options like DIEP flap surgery for breast reconstruction. With a skilled and highly specialized team of doctors, Mercy's Plastic Surgery and Breast Reconstruction Centers are known as one of the Mid-Atlantic's best in breast reconstruction and restoration, cosmetic medicine and plastic surgery.
Working in Tandem with Breast Cancer Surgeons
As the Assistant Director of The Hoffberger Breast Center at Mercy in Baltimore, Dr. Bernie Chang works closely with the Breast Center doctors to provide seamless care for those women who choose immediate breast reconstruction after breast surgery. The industry-leading expertise of Dr. Chang and the renowned reputation of the physicians of The Breast Center result in choices that women may not find elsewhere.
With more than 20 years of medical experience, Dr. Chang offers women peace of mind in breast reconstruction and restoration. His quiet thoughtfulness and attention to the needs of his patients provide a calming touch that helps each woman focus on her treatment options and recovery. His expertise is in helping women reclaim their feminine form and personal self-esteem after a diagnosis and treatment for breast cancer. Women say they have regained their physical and emotional balance in the care of Dr. Chang.
Offering DIEP Flap and Additional Breast Reconstruction Options
Dr. Chang has performed DIEP flap breast reconstruction surgery for decades and his leadership is widely known. DIEP flap breast reconstruction surgery is one of the most widely performed breast shaping options for women. Dr. Chang is also skilled in other microsurgical flap procedures including:
Dr. Bernie Chang's surgical expertise attracts surgical fellows from across the nation to train in the renowned Fellowship Program at Mercy in breast reconstruction and surgical flap treatment options.
Plastic Surgery and Cosmetic Medicine Expertise
In addition to his skill in breast reconstruction, Dr. Bernie Chang provides experience in plastic surgery and cosmetic medicine procedures. Dr. Chang, who serves as Chief of the Division of Plastic & Reconstructive Surgery, offers women and men cosmetic surgery for rejuvenation of the face, body and breasts.
Award-Winning Doctor
Dr. Bernie Chang has been recognized as:
"America's Best Plastic Surgeons" - Newsweek magazine
"Top Doctor" in the field of

Cosmetic Surgery-Breast/Body Contouring

, Baltimore magazine
One of Maryland's Top Plastic Surgeons, Good Housekeeping magazine
"Best Cosmetic or Plastic Surgeon" - The Daily Record's Reader Rankings Awards
Dr. Chang has also been recognized for:
America's Most Compassionate Doctors through the Patients' Choice recognition program
Best Cosmetic Surgery through the Maryland Gazette Readers' Choice awards
Commitment to Advances in Breast Reconstruction Surgeries
Active in research projects, Dr. Bernie Chang has worked with The Johns Hopkins School of Medicine on several research fronts, including topics on:
Isometric and Dynamic Assessment of Abdominal Wall Function after TRAM Flap Breast Reconstruction
Factors Determining Choice of Breast Surgery and Subsequent Quality of Life Among Breast Cancer Patients: A Survey of Patients and Their Surgeons
Secondary TRAM Flap Contouring Using Tumescent Liposuction
Autogenous Tissues Replacement of Prosthetic Breast Implants After Mastectomy: A Retrospective Review
Smoking and Complications in 211 Breast Reconstructions
Obesity and Complications in 196 Consecutive Breast Reconstructions
Dr. Chang has made numerous presentations concerning breast reconstruction after cancer and obesity as a risk factor in breast reconstruction. He has published articles on perforator flap surgeries and tissue transfers in breast reconstruction.
*Plastic surgeon Dr. Bernie Chang also sees patients in West Palm Beach, Florida at Good Samaritan Medical Center.
Education & Fellowships
Residency – General Surgery, University of California
Plastic Surgery, Johns Hopkins Medical Institutions/University of Maryland Combined Program
Surgical Internship – University of California
Medical Degree – Los Angeles Medical School, University of California
Charing Cross Hospital, London, England


Associations & Memberships
American Medical Association
American Society of Plastic and Reconstructive Surgery
John Staige Davis Society of Plastic Surgery
Plastic Surgery Research Council
See a list of insurances accepted at Mercy. Restrictions may apply. Patients should confirm coverage with their carrier prior to appointment date.