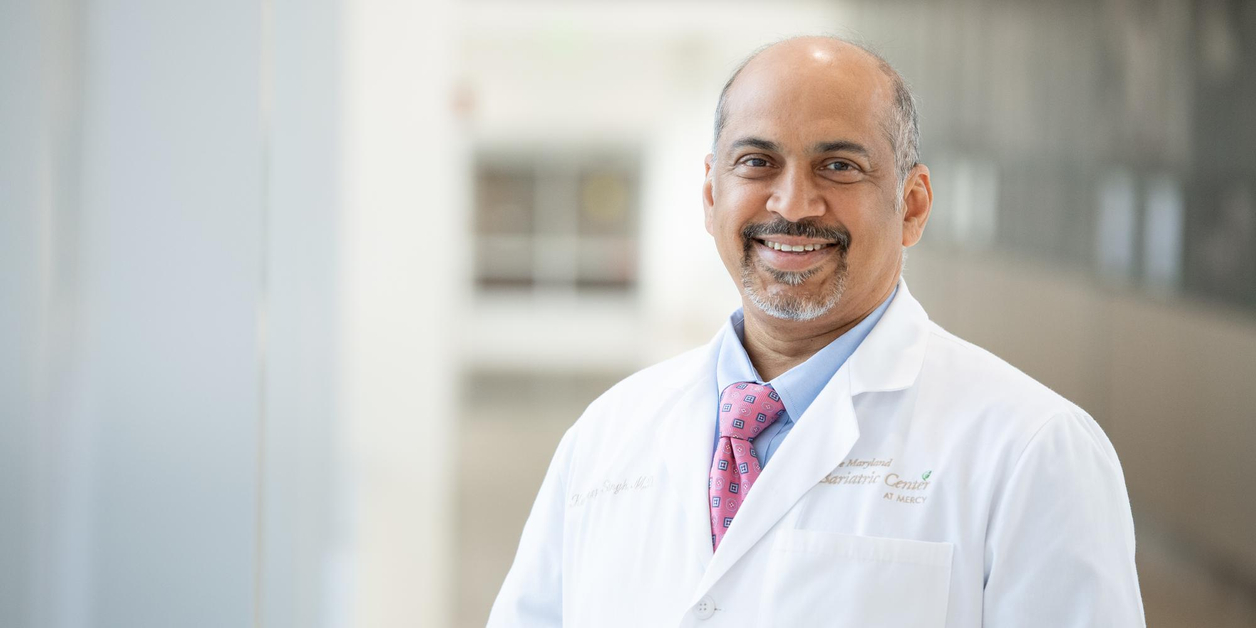 Director, The Maryland Bariatric Center at Mercy
Locations:
The Weinberg Center - Lower Level
Mercy Physicians at Broken Land Parkway
Kuldeep Singh, M.D.
Kuldeep Singh, M.D., FACS, MBA, FASMBS, a top weight loss surgeon in Maryland, serves as Director of The Maryland Bariatric Center at Mercy, located on the Mercy Downtown campus in Baltimore, Maryland.
The Maryland Bariatric Center at Mercy provides patients access to a premier multidisciplinary weight loss program that is supported by Mercy's many renowned clinical programs and specialties.
Expert Doctor for Weight Loss Surgery
Dr. Kuldeep Singh is highly regarded by colleagues and patients alike for his advanced skills in life-changing bariatric surgical procedures. He assists patients in determining the best weight loss option for their individual needs and goals.
A Board Certified general surgeon, Dr. Singh is Fellowship trained in Advanced Laparoscopic Surgery and Bariatric Surgery with extensive experience in:
Dr. Singh's comprehensive background in bariatric surgery allows him to provide patients choices in surgical options as well as sound advice in matching those options to a particular need or individual situation.
A Path to Healthy Transformation
Dr. Kuldeep Singh offers a thoughtful, supportive process for the preparation and recovery for bariatric surgery. By partnering with a team of dietitians, psychology experts and Mercy specialists, Dr. Singh is able to provide a clear and meaningful path to a healthier condition, including strategies for lasting results.
Dr. Singh has been described as approachable and kind. He believes in making a connection with each of his patients to remove fear and build the trust and confidence needed to make a life-changing health decision.
Named a Best Bariatric Surgeon in Baltimore
Named a "Top Doctor" in Bariatric Surgery by Baltimore magazine for multiple years and a "Health Care Hero" by The Daily Record, Dr. Singh is a stand-out expert in his field. In addition to decades of experience with perfecting transformational surgeries, he also personally hosts informational seminars to educate patients and help them determine whether or not weight loss surgery may be a good option for their health goals.
Advancing Quality Bariatric Surgery in the Maryland Region
A strong proponent for advancing the clinical standard of bariatric surgery, Dr. Singh has taken on varied roles as founder, advocate and director of regional programs aimed at providing high-quality care for bariatric patients. In addition to establishing bariatric patient and fellowship programs, he also formed the Maryland Chapter of The American Society for Metabolic and Bariatric Surgery.
Dr. Singh has multiple book chapters and professional presentations to his credit as well as extensive experience teaching laparoscopic and bariatric surgical techniques to fellow physicians.
Education & Fellowships
Fellowship –

Advanced Laparoscopic Surgery, St. Joseph Medical Center, Towson, MD

Residency – General Surgery, St. Agnes Hospital, Baltimore, MD
Medical Degree – All India Institute of Medical Sciences – New Delhi, India
Associations & Memberships
American College of Surgeons
American Society of Metabolic and Bariatric Surgeons
Society of American Gastro Endoscopic Surgeons (SAGES)
American College of Healthcare Executives
See a list of insurances accepted at Mercy. Restrictions may apply. Patients should confirm coverage with their carrier prior to appointment date.