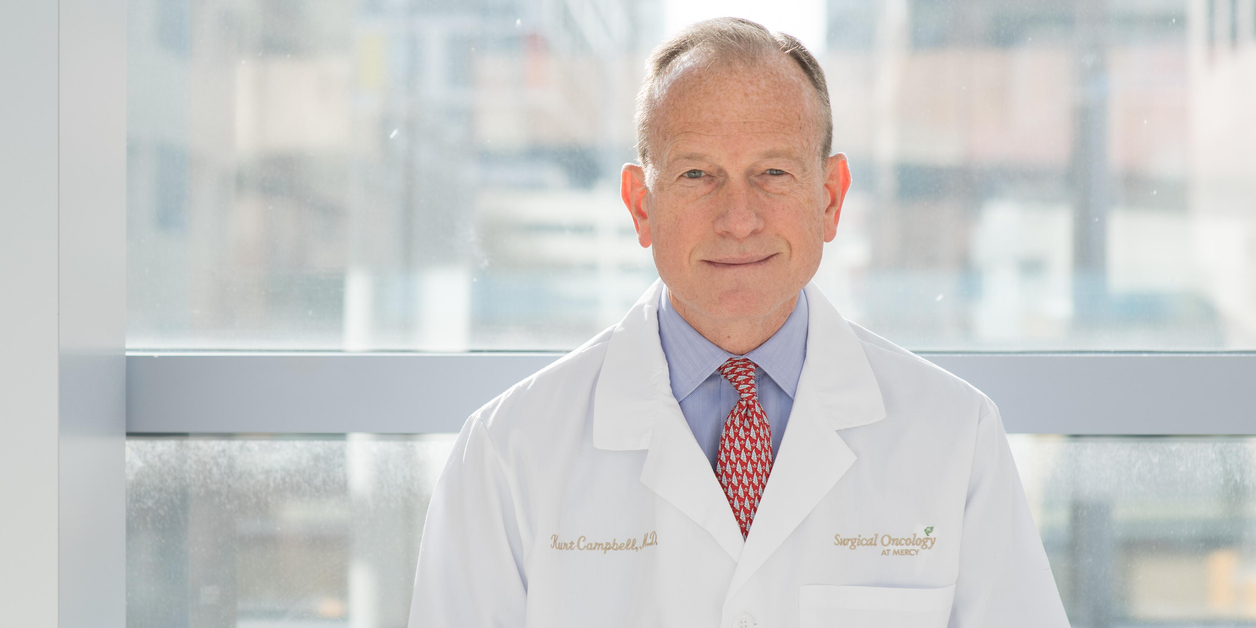 Areas of Interest:
Pancreatic Surgery, Hepatobiliary Surgery, Gastrointestinal Surgery, Complex Abdominal Surgery, HIPEC Surgery, Retroperitoneal and Extremity Sarcoma
Locations:
The Weinberg Center at Mercy
Mercy Personal Physicians at Glen Burnie
Kurtis Campbell, M.D.
Kurtis A. Campbell, M.D., is a Board Certified surgical oncologist of Surgical Oncology at Mercy Medical Center in Baltimore, Maryland. Dr. Campbell is a highly trained and experienced surgeon who is exceptionally skilled in a number of intricate cancer treatment surgical procedures.
Specially Trained in Pancreatic and Hepatobiliary Surgery
Dr. Campbell has specific expertise with advanced training and day-to-day surgical knowledge of the complex demands of pancreatic and hepatobiliary surgery. Patients who need the expertise of Dr. Campbell typically turn to him because they have been diagnosed with a disorder of the pancreas, liver, bile ducts, and/or gallbladder. Dr. Campbell works closely with his patients, their families and the patient's medical care teams to ensure thorough and careful attention is given to every phase of a patient's recovery.
Dr. Kurtis Campbell was specially trained in the Whipple procedure - a complex surgery for pancreatic cancer - and mentored under one of the foremost experts on the Whipple procedure. With years of Whipple procedure expertise, experience and repeated surgical performance, Dr. Campbell is able to give patients diagnosed with pancreatic cancer renewed hope and a surgical option that few other surgical oncologists can offer.
Patients Look For Experienced, Skilled Surgical Oncologists
Dr. Campbell also focuses on gastrointestinal and complex abdominal surgery. Intricate surgeries involving the gastrointestinal (GI) tract (stomach, small intestine, large intestine, colon and rectum) need the precision and exacting capability of a surgical oncologist who has performed these types of procedures so many times the surgery seems to be performed with the skill and accuracy of a finely-trained drill team.
Dr. Campbell provides the unique HIPEC (hyperthermic intraperitoneal chemotherapy) procedure to treat advanced abdominal cancers and bring hope to patients with complex, life-threatening cancer diagnoses.
The Surgical Oncology team at Mercy bring years of operating room experience to the treatment and care of their patients. They have charted an ever-growing list of successful patient outcomes and continually look for new and innovative ways to improve the prognosis for their patients.
Expert Surgeon, Educator and Researcher
Dr. Kurtis Campbell has expertise in a wide array of surgical procedures including:
Advanced laparoscopic surgery
Complex abdominal surgery
Colon and rectal surgery
HIPEC surgery
Pancreatic surgery
Liver surgery
Bile duct surgery
Soft tissue and skin cancer surgery
Surgical Oncology Treatment Options
These surgeries are some of the treatment options performed by Dr. Campbell for patients who may have the following types of cancers:
Liver cancer
Bile duct tumors
Recurring tumors
Melanoma and other skin cancers
Awards and Recognition
Dr. Kurtis Campbell has been recognized for his clinical expertise and compassionate bedside manner. His awards include:
"Top Doctor" in Surgical Oncology by Baltimore magazine
Patients' Choice Award
Compassionate Doctor Recognition
Named by Annapolis Magazine a "Top Doctor"
Education & Fellowships
Fellowship – The Johns Hopkins University School of Medicine
Residency – The Johns Hopkins Hospital
Medical Degree – The Johns Hopkins University School of Medicine
Associations & Memberships
American College of Surgeons, Fellow
The Society for Surgery of the Alimentary Tract
Society of Surgical Oncology
Pancreas Club
North American Neuroendocrine Tumor Society (NANETS)
See a list of insurances accepted at Mercy. Restrictions may apply. Patients should confirm coverage with their carrier prior to appointment date.