Pancreatic Cancer Diagnosis and Treatment by Doctors at Mercy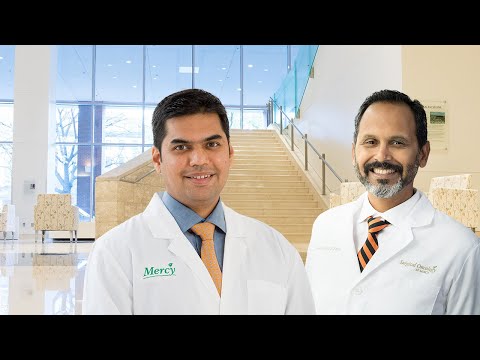 About Pancreatic Cancer
Pancreatic cancer develops when cells inside the pancreas grow uncontrollably and outlive normal cells to form a tumor. Pancreatic cancer can spread rapidly and is seldom detected early.
Symptoms & Diagnosis
Because pancreatic cancer symptoms often do not appear until the cancer is advanced, pancreatic cancer usually is not detected early. When pancreatic cancer symptoms do appear, they are similar to most other pancreatic diseases; therefore, it is important to see a pancreas specialist if any of the following pancreatic cancer symptoms occur:
Upper abdominal pain that can radiate to the back
Jaundice, or the yellowing of skin and whites of eyes
Appetite loss
Weight loss
Fatigue
Depression
Blood clots
Factors that increase the risk of pancreatic cancer can include smoking, chronic pancreatitis, a long history of diabetes, and heredity.
Pancreatic cancer can be diagnosed by a variety of diagnostic tests including ultrasound, CT scan, and MRI. In addition, pancreatic cancer can be detected using the following innovative techniques:
Treatment Options for Pancreatic Cancer
Treatment options for pancreatic cancer will be dependent on the stage or the progression of the cancer as well as the location of the cancer within the pancreas. Pancreatic cancer treatment may include:
Radiation therapy
Clinical trials
Palliative care
Surgical Oncology at Mercy is recognized for skilled cancer surgeons who provide expertise in treating patients with melanoma, abdominal/stomach and GI cancers.