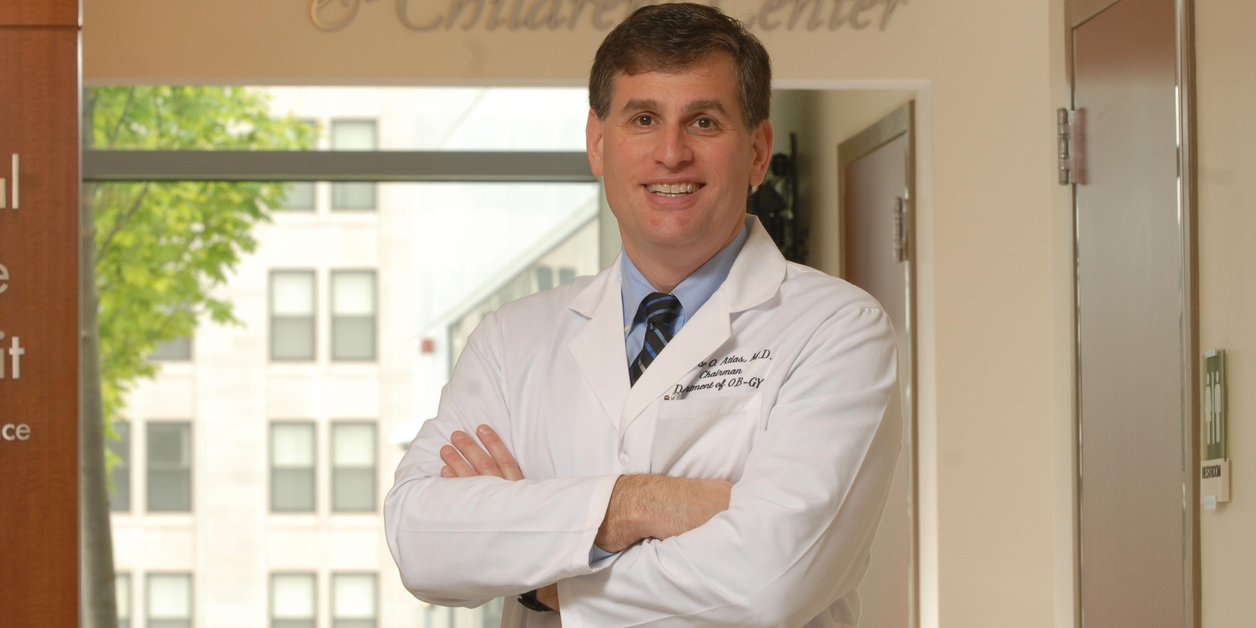 Chair, Department of Obstetrics and Gynecology
Specialty:
Obstetrics and Gynecology
Board Certifications:
Obstetrics and Gynecology
Maternal and Fetal Medicine
Locations:
The Mary Catherine Bunting Center at Mercy
Robert Atlas, M.D.
Robert O. Atlas, M.D., leads Obstetrics and Gynecology at Mercy and is committed to keeping Mercy on the leading edge of care for new mothers and their babies. As Chair of Mercy's Department of Obstetrics and Gynecology, Dr. Atlas provides leadership and guidance to a team of Mercy OB-GYNs. Additionally he is a key leader within The Family Childbirth and Children's Center, regularly providing strategic direction and recommendations for enhancements to the patient experience.
Leadership in Obstetric Care in Baltimore
Dr. Atlas has been instrumental in keeping Mercy at the forefront of obstetric care. He played a vital role in the planning, designing and move of the Labor and Delivery and Mother-Baby Units to Mercy's current, state-of-the-art hospital, The Mary Catherine Bunting Center. With all-private rooms, private baths, the availability of hydrotherapy tubs and the unusual offering of private NICU rooms, Mercy's facility was carefully designed to provide comfort, convenience and privacy for new parents and their babies.
Dr. Atlas' influence has spread beyond physical enhancements to the program as he regularly provides guidance and support for the care team on the Labor and Delivery and Mother-Baby inpatient floors, encouraging active communication between the clinical team and patients. He led Mercy to become the first hospital in Maryland to participate in a public cord blood bank program. Umbilical cord blood, often discarded, can provide life-saving treatments for both children and adults.
The Daily Record recognized Dr. Atlas as Physician of the Year as part of its annual Health Care Hero awards. He also has been named a "Top Doctor" by Baltimore magazine.
Providing Advanced Care for High Risk Pregnancy
With an extensive background and Board Certifications in both Obstetrics and Gynecology and Maternal-Fetal Medicine, Dr. Robert Atlas oversees Mercy's Center for Advanced Fetal Care and a team of perinatologists who provide diagnosis, counseling and care for high risk pregnancies.
Dr. Atlas and his colleagues provide Mercy patients with access to advanced treatment options during pregnancy such as robotic abdominal cerclage to address cervical incompetence.
An Advocate and Trusted Advisor for Mothers in Baltimore
Dr. Atlas has been an advocate for mothers and firm believer in promoting education on pregnancy, delivery and early motherhood. Dr. Atlas has been often featured in national and local media including frequent appearances on Mercy's Woman's Doctor, where his expert opinion is provided to mothers and families throughout the Baltimore area.
Committed to the Education of Doctors for Continuous Improvements in Care
Dr. Atlas maintains a relationship with the University of Maryland School of Medicine, providing education for new doctors and serving as an Assistant Professor of Obstetrics and Gynecology and Reproductive Services as well as Associate Residency Program Director. Dr. Atlas has numerous medical awards, abstracts, publications, chapters and presentations to his credit. He is also a reviewer for the American Journal of Obstetrics and Gynecology, American Journal of Managed Care and Obstetrics and Gynecology.
Education & Fellowships
Internship - University of Maryland Medical System
Medical Degree - Jefferson Medical College


Associations & Memberships
American College of Obstetrics and Gynecology
American Institute of Ultrasound in Medicine
Society of Maternal-Fetal Medicine
Association of Professors in Gynecology and Obstetrics
National Perinatal Association
See a list of insurances accepted at Mercy. Restrictions may apply. Patients should confirm coverage with their carrier prior to appointment date.