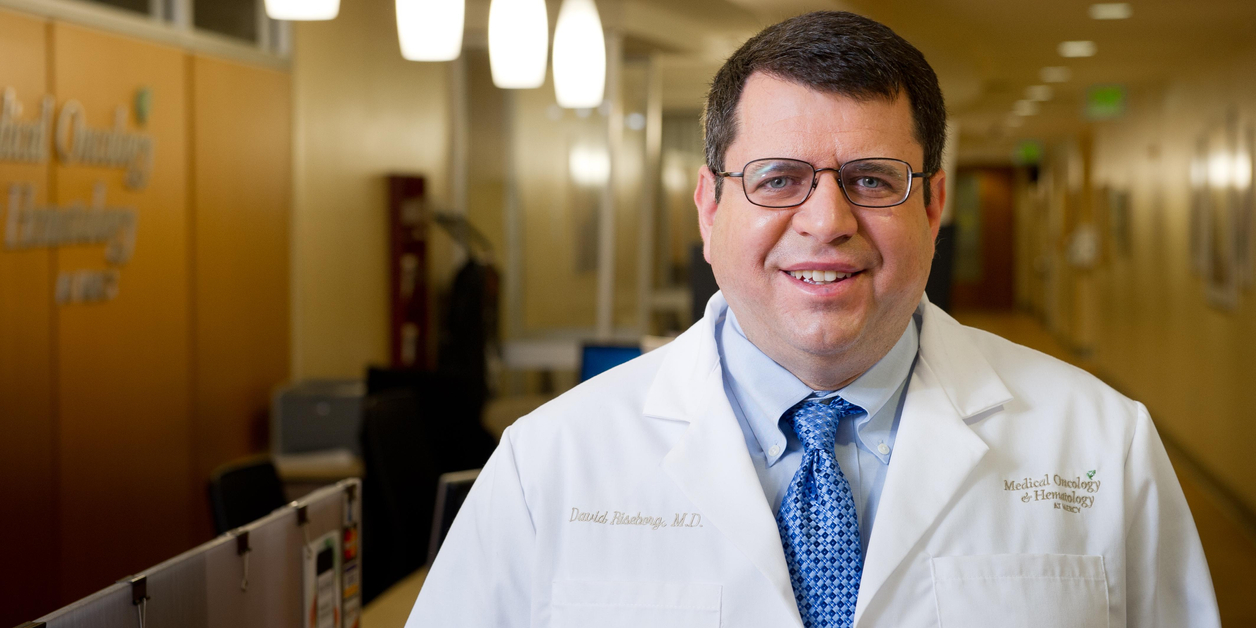 Chief, Division of Medical Oncology and Hematology
Specialty:
Medical Oncology and Hematology
Board Certifications:
Medical Oncology
Hematology
Internal Medicine
Areas of Interest:
Breast Cancer, Blood Disorders
Locations:
The Weinberg Center at Mercy
Mercy Personal Physicians at Glen Burnie
Mercy Personal Physicians at Lutherville
David Riseberg, M.D.
David A. Riseberg, M.D., is Chief of Medical Oncology and Hematology at Mercy Medical Center in Baltimore, Maryland. Dr. Riseberg is a top rated oncologist who is Board Certified in Internal Medicine, Medical Oncology and Hematology. Dr. Riseberg is a highly regarded specialist treating patients with many types of cancers and blood disorders including breast cancer, colon and rectal cancer, gynecologic cancers, lung cancer, leukemia and lymphoma.
Leadership in Oncology
In addition to his role as Chief, Dr. Riseberg is Chair of The Cancer Committee at Mercy Medical Center. In these leadership roles, Dr. Riseberg deliberates with other cancer experts to design and develop care paths for complex cancer cases. This team of cancer surgeons and specialists also invests time, energy and resources to design standards of care that elevate the patient experience and clinical outcomes.
Dedicated to Breast Cancer Research and Treatment
Dr. David Riseberg has dedicated and focused much of his medical career on the research and treatment of breast cancer. His continued dedication to helping women face this life changing disease is a commitment that has translated into research, outreach and a better understanding of how to manage the disease and care for breast cancer patients.
Dr. Riseberg works together with the surgeons, certified nurse practitioners and nurses in The Breast Center at Mercy to help women get a coordinated and comprehensive treatment plan and, when appropriate, enrolled as a participant in a current clinical trial. This approach allows the patient to benefit from the collective wisdom, experience and knowledge of the medical team.
Utilizing the latest chemotherapy treatments and in collaboration with top rated oncologists and radiation specialists within Mercy's Institute for Cancer Care, Dr. Riseberg helps women face the challenges and triumphs of a breast cancer diagnosis.
Experienced Oncologist in Treating Leukemia and Lymphoma
Dr. David Riseberg is equally as gifted in his knowledge and first-hand experience in treating blood disorders, leukemia and lymphoma. Sometimes, because these diagnoses do not have the word cancer in their name people feel these are less severe disorders. In fact, many blood disorders are cancerous and can have devastating results if not effectively treated. Turning to a skilled medical oncologist like Dr. Riseberg is one of the best ways to evaluate the stage of the blood disorder and then determine the best available treatment options.
Recognized as a Leading Medical Oncologist
Dr. David Riseberg is a highly respected medical oncologist within the Baltimore area. He has been recognized by Baltimore magazine as one of the areas "Top Doctors," a distinction awarded by his peers within the medical community.
Dr. Riseberg is caring, friendly, interested in the lives of his patients and their families and an extremely visible doctor in Mercy's Outpatient Chemotherapy patient suite. He visits with patients, making sure their medical needs are met and their personal comforts are given individualized attention.
The genuine and heartfelt appreciation for his compassionate care and bedside manner has been voiced by Dr. Riseberg's patients in a particularly special and touching way. On multiple occasions Dr. Riseberg has earned the "Compassionate Doctor Recognition" – as voted by his patients. He also has been honored as the recipient of the "Patients' Choice Award."
Education & Fellowships
Fellowship – Clinical Associate, Medicine Branch, National Cancer Institute of the National Institutes of Health
Residency – University of Maryland Medical System
Medical Degree – University of Maryland Medical System


Associations & Memberships
American Society of Clinical Oncology
American Society of Hematology
American Medical Association
See a list of insurances accepted at Mercy. Restrictions may apply. Patients should confirm coverage with their carrier prior to appointment date.