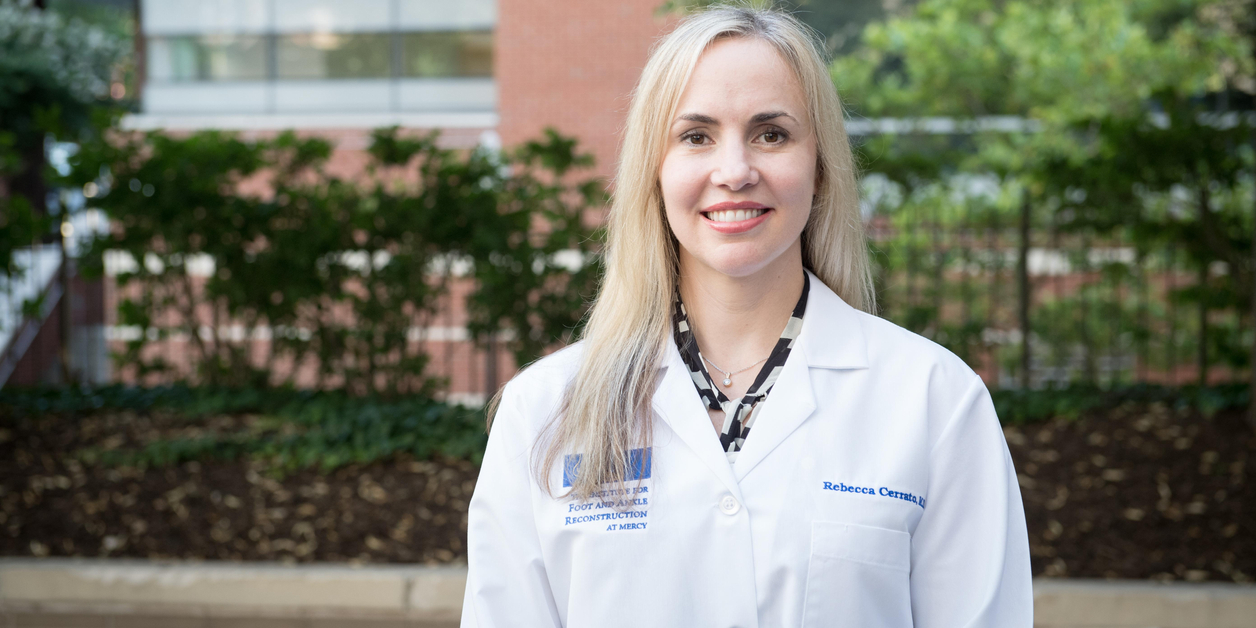 Director, Fellowship Program, The Institute for Foot and Ankle Reconstruction at Mercy
Specialty:
Foot and Ankle Surgery
Orthopedics
Areas of Interest:
Arthroscopic Surgery, Cartilage Biology, Foot and Ankle Injuries, Surgery, and Reconstruction
Locations:
McAuley Plaza at Mercy
Mercy Personal Physicians at Lutherville
SurgCenter of Towson
Rebecca Cerrato, M.D.
Rebecca A. Cerrato, M.D., FAAOS, is a highly skilled orthopedic surgeon at The Institute for Foot and Ankle Reconstruction at Mercy Medical Center. Patients throughout Baltimore and the surrounding region seek Dr. Cerrato's expertise and experience in offering some of the best treatments for foot and ankle injuries and conditions.
Experienced Orthopedic Surgeon, Foot and Ankle Specialist
Dr. Rebecca Cerrato is Board Certified in Orthopedic Surgery and brings years of experience to her practice. She was one of the first orthopedic surgeons in the United States to perform advanced minimally invasive bunion surgery. She offers specialized care for a wide variety of foot and ankle conditions as well as advanced treatment options for complex injuries and disorders, such as:
Dr. Cerrato has been named a "Top Doctor" by Baltimore magazine in the orthopedic- foot & ankle category.
Patient-Centered Care for the Baltimore Region
Dr. Rebecca Cerrato combines exceptional technical skills with a genuine and compassionate approach to patient care. Her professional dedication to advanced clinical and surgical techniques makes her a key component to the Mercy team and a sought after foot and ankle surgeon in the Baltimore region.
Respected Clinical Educator, Trainer and Presenter
With a reputation among her peers and colleagues as a gifted clinician, Dr. Rebecca Cerrato is a recognized leader in clinical education on a national and international level. She is the only U.S. surgeon to serve as a board member on the Groupe de Recherche et d'Etude en Chirurgie Mini-Invasive du Pied - a prestigious international society dedicated to minimally invasive foot and ankle surgery.
Dr. Cerrato is Chairperson, Course Director and host to an annual international arthroscopy course held in Downtown Baltimore. The course draws leading experts in the field and international attendance from Australia, Israel, Canada, England and France, among others. Dr. Cerrato provides advanced instruction on arthroscopic techniques and minimally invasive surgery. Surgeons from around the globe meet at the Institute to train and share foot and ankle surgical treatments and research findings.
Dr. Cerrato is Board Certified by the American Board of Orthopaedic Surgery and serves as Chairman of the Membership committee for the American Orthopaedic Foot and Ankle Society (AOFAS). The national organization is aimed at promoting quality, ethical and cost-effective patient care through education, research and training of orthopedic surgeons and other health care providers.
Leading Mercy's Renowned Fellowship Program
Within the Institute, Dr. Rebecca Cerrato serves as Director of Mercy's prestigious Foot and Ankle Fellowship Program. Dr. Cerrato, together with fellow surgeons, helps to develop Board Certified orthopedic surgeons into foot and ankle specialists. The program provides fellows the opportunity to learn and participate in innovative and advanced foot and ankle surgical treatment options alongside experienced surgeons.
Foot and Ankle Surgeon Dedicated to the Community
Dr. Rebecca Cerrato has dedicated her personal time to participating in events that benefit the Baltimore community. Along with her fellow colleagues she has volunteered foot care services at Baltimore's Helping Up Mission and participated in the 9-11 Run to Remember, sponsored by The Institute for Foot and Ankle Reconstruction at Mercy.
Education & Fellowships
Fellowship – Mercy Medical Center, Baltimore, MD
Residency – Georgetown University Department of Orthopedics, Washington, D.C.
Internship and Residency – University of Chicago Department of Orthopedics and Rehabilitation, Chicago, IL
Medical Degree – University of Chicago - Pritzker School of Medicine, Chicago, IL
Associations & Memberships
American Orthopedic Foot and Ankle Society
American Academy of Orthopedic Surgeons
Groupe de Recherche et d'Etude en Chirurgie Mini-Invasive du Pied
(Group of Research and Study in Minimally Invasive Surgery of the Foot)


See a list of insurances accepted at Mercy. Restrictions may apply. Patients should confirm coverage with their carrier prior to appointment date.