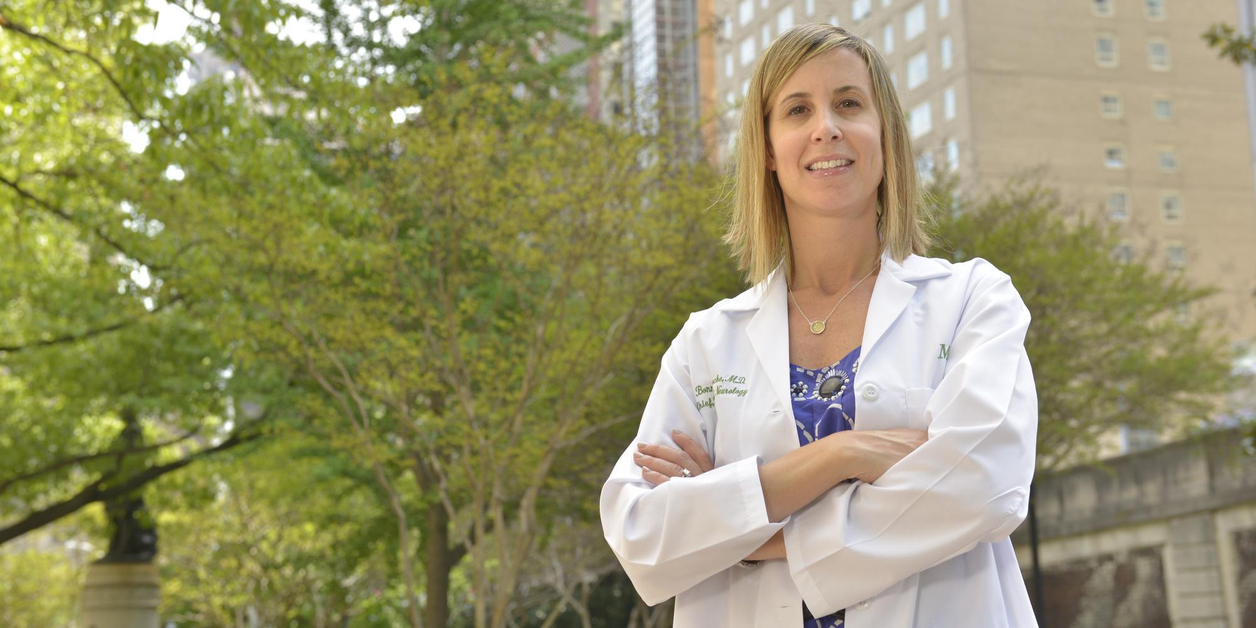 Director, The Neurology Center at Mercy
Specialty:
Neurology
Neuromuscular Medicine
Board Certifications:
Neurology
Neuromuscular Medicine
Areas of Interest:
Peripheral Neuropathy, Neuromuscular Disorders, Myasthenia Gravis, ALS, EMG
Locations:
McAuley Plaza at Mercy
Mercy Personal Physicians at Lutherville
Bonnie Gerecke, M.D.
Bonnie J. Gerecke, M.D., is the Director of The Neurology Center at Mercy as well as Chief of Neurology and Medical Director of Rehabilitation at Mercy Medical Center in Baltimore, Maryland. Dr. Gerecke is a neurologist with specialty expertise in diagnosing, evaluating and managing neuromuscular disease. She is Board Certified in General Neurology and Neuromuscular Medicine. She is one of a few trained and experienced neurologists with Board Certification in a newer neurology subspecialty - Neuromuscular Medicine. Neuromuscular Medicine focuses more on clinical care of neurology and less on research.
Dr. Gerecke has a special interest in amyotrophic lateral sclerosis (ALS), myasthenia gravis, myopathy/muscular dystrophy, peripheral neuropathy and radiculopathy.
Dedicated Neurologist and Patient Advocate
Patients turn to Dr. Gerecke for her clinical expertise and her determination to provide patients access to some of the best treatment options. Dr. Gerecke is dedicated to advancing treatment options for neuromuscular disorders and educating both patients and physicians.
Dr. Gerecke works closely with the specialists of The Orthopedic Specialty Hospital at Mercy. Patients benefit from a partnership that offers exposure to renowned orthopedic specialists and innovative treatment options. Dr. Gerecke's special training in EMG (Electromyography) diagnostic testing helps to advance the scope of services for Mercy neurology patients.
Lecturer, Teacher, Top Neurologist
Dr. Bonnie Gerecke is an experienced lecturer and teacher. She has extensive experience in resident teaching activities related to General Neurology, and Inpatient, Clinic and Consult Attending. Dr. Gerecke also has served as an Assistant Professor of Neurology and Co-Director of the Maryland ALS Clinic at the University of Maryland Medical Center.
Dr. Gerecke has been named a "Top Doctor" by Baltimore magazine in the Neurology category, voted by her peers as one of the best neurologists in the Baltimore area.
Education & Fellowships
Fellowship - Brigham and Women's Neurology, Harvard Partners Program
Residency – Tufts University
Internship – Medical College of Virginia
Medical Degree – Medical College of Virginia
Associations & Memberships
American Academy of Neurology
American Association of Neuromuscular and Electrodiagnostic Medicine
See a list of insurances accepted at Mercy. Restrictions may apply. Patients should confirm coverage with their carrier prior to appointment date.