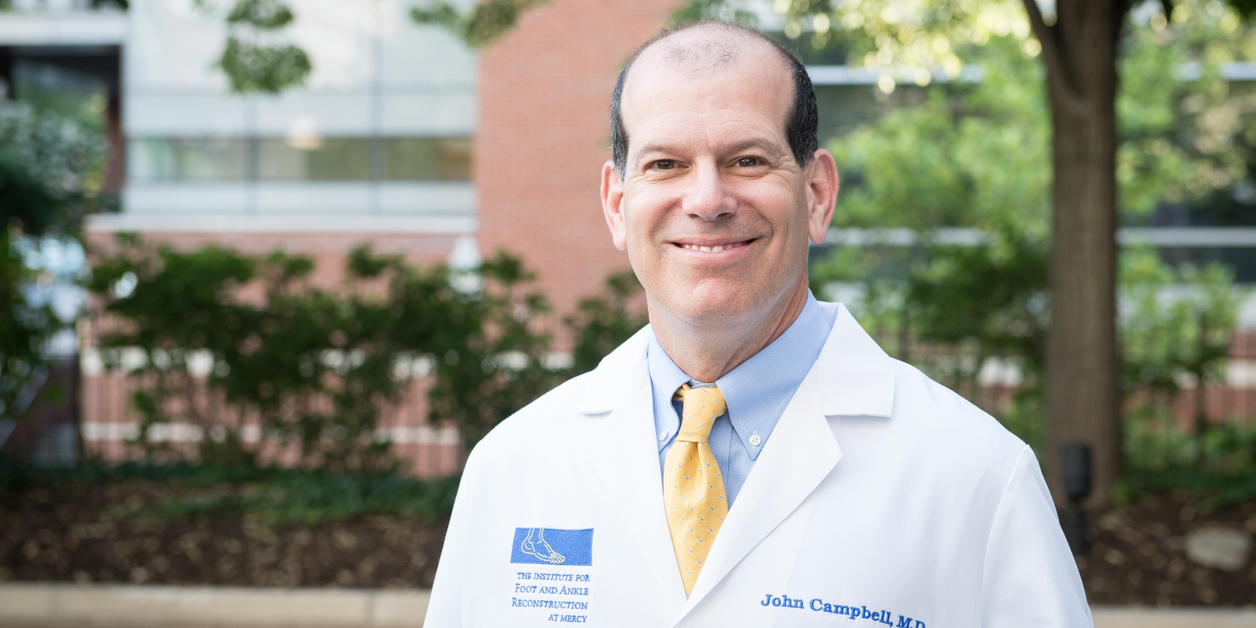 Director of Research, The Institute for Foot and Ankle Reconstruction at Mercy
Specialty:
Foot and Ankle Surgery
Orthopedics
Areas of Interest:
Ankle Arthroscopy, Arthroscopic Surgery
Locations:
McAuley Plaza at Mercy
Mercy Personal Physicians at Columbia - University Boulevard
SurgCenter of Towson
John Campbell, M.D.
John T. Campbell, M.D., FAAOS, is a top rated foot and ankle surgeon with The Institute for Foot and Ankle Reconstruction at Mercy Medical Center in Baltimore, Maryland. He is Board Certified in Orthopedic Surgery and offers clinical expertise in advanced reconstruction procedures as well as common foot and ankle conditions.
Expert in Advanced Reconstruction Procedures for the Foot and Ankle
Patients throughout the Mid-Atlantic region turn to Dr. John Campbell for the treatment of routine and complex disorders of the foot, ankle, big and smaller toes. His experience, skill and proficiency allow him to provide comprehensive and advanced treatments, including:
Dedicated Physician and Researcher
Dr. John Campbell is the Director of Research for The Institute for Foot and Ankle Reconstruction at Mercy. Dr. Campbell, along with his Mercy colleagues, has dedicated his career to advancing the treatment of foot and ankle disorders through continued research and education. He strives to develop more effective and efficient ways to prevent, diagnose and treat conditions that result in more successful outcomes for patients.
Nationally Respected Teacher, Lecturer, Author
Dr. Campbell is Board Certified by the American Board of Orthopaedic Surgery. In addition to his roles within Mercy, Dr. John Campbell contributes to the advancement of foot and ankle care and research on a national level. He has served on the Board of Directors as well as Chairman of the Education committee for the American Orthopaedic Foot and Ankle Society (AOFAS), which aims to promote quality, ethical and cost effective patient care through education, research and training of orthopedic surgeons and other health care providers. Dr. Campbell regularly hosts and lectures at various regional courses on behalf of AOFAS.
Dr. Campbell also serves as Associate Editor of the American Orthopaedic Foot & Ankle Society's official publication, Foot & Ankle International. The monthly medical journal emphasizes surgical and medical management, as well as basic clinical research related to foot and ankle problems.
Top Rated Foot and Ankle Surgeon
Dr. John Campbell has been recognized as a "Top Doctor" multiple times by Baltimore magazine for his clinical excellence in foot and ankle surgery. The designation is awarded to area doctors recognized as among the best in their respective fields.
Baltimore Community Volunteer
As a member of The Institute for Foot and Ankle Reconstruction at Mercy, Dr. John Campbell regularly volunteers his time to support the local Baltimore community. Dr. Campbell and his colleagues have provided foot care services for homeless men who find refuge at Baltimore's Helping Up Mission.
Additionally, Dr. Campbell has participated in the city's Run to Remember to honor the heroes of 9-11 and raise money for The Baltimore City Police Foundation and The Baltimore City Fire Foundation.
Education & Fellowships
Fellowship – Union Memorial Hospital, Baltimore, MD
Residency – Hospital of the University of Pennsylvania, Philadelphia, PA
Internship – Hospital of the University of Pennsylvania, Philadelphia, PA
Medical Degree – University of Pennsylvania School of Medicine, Philadelphia, PA


Associations & Memberships
American Academy of Orthopedic Surgeons
American Orthopedic Foot and Ankle Society
Maryland Orthopedic Association
See a list of insurances accepted at Mercy. Restrictions may apply. Patients should confirm coverage with their carrier prior to appointment date.