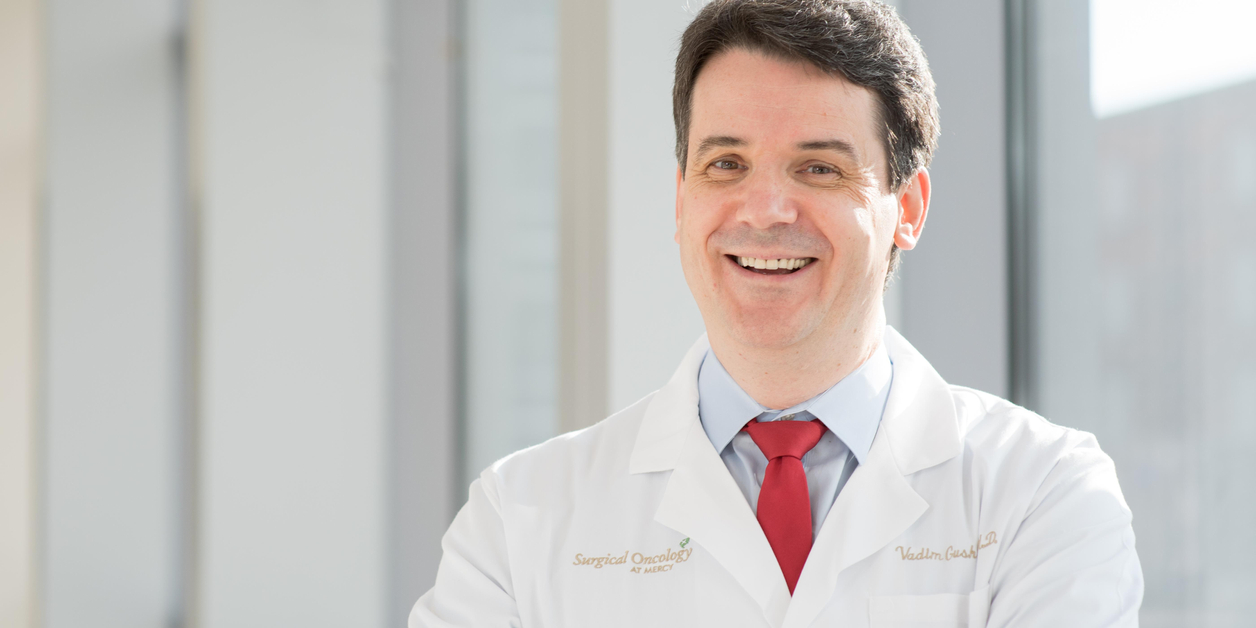 Director, HIPEC Program at Mercy
Areas of Interest:
Robotic Surgery, HIPEC Treatment, Isolated Limb Infusion (ILI) for Melanoma, Abdominal Cancers, Colorectal Cancers
Locations:
The Weinberg Center at Mercy
Mercy Personal Physicians at Lutherville
Vadim Gushchin, M.D.
Vadim Gushchin, M.D., of Surgical Oncology at Mercy, is among the region's leading surgical oncologists, offering long-time expertise in the treatment of complex cancers. As Director of Mercy's prestigious HIPEC Program, he has championed efforts to improve survival rates of late-stage cancers, offering advanced treatment options available only in select hospitals throughout the country. Dr. Gushchin has been recognized by his peers as a "Top Doctor" in Surgical Oncology in Baltimore magazine.
With an expansive skill set in sophisticated surgical techniques, Dr. Gushchin offers minimally invasive surgery, including da Vinci robotic surgery, as well as cytoreductive surgical options to remove extensive tumor damage.
Dr. Vadim Gushchin leads Mercy's Melanoma and Skin Cancer Center as well as Gastrointestinal Oncology at Mercy, a division of Surgical Oncology at Mercy Medical Center in Baltimore, Maryland.
Respected Expert in HIPEC Treatment for Complex Cancers
Recognized by colleagues and patients alike for his skill in HIPEC (Hyperthermic Intraperitoneal Chemotherapy), Dr. Gushchin offers hope for those fighting late-stage, invasive cancers. The combination of extensive cytoreductive surgery with successive HIPEC treatment can significantly reduce tumor spread and offer extended survival for patients who may be facing a critical diagnosis.
Dr. Gushchin has invested years of training and experience to master HIPEC treatment, participating in hundreds of surgeries and perfecting tumor removal techniques. He offers patients expertise in complicated HIPEC surgeries including repeat HIPEC surgeries, simultaneous liver resections at the time of HIPEC, as well as other advanced surgical treatments in conjunction with HIPEC treatment.
Dr. Gushchin has educated physicians around the world on HIPEC treatment and has organized teaching courses for the treatment of peritoneal surface malignancies (complex abdominal cancers that can be treated with HIPEC). As an extension of his knowledge and compassion, Dr. Gushchin has been instrumental in setting up treatment centers for peritoneal surface malignancies in other parts of the world including Lithuania, Siberia and Ukraine.
Skilled Surgical Oncologist Offering Robotic Surgery Options
As an accomplished surgeon, Dr. Vadim Gushchin offers state-of-the-art options, including robotic surgery, using the da Vinci robot, for patients with thyroid and parathyroid disease as well as tumors within the colon, rectum and liver. Patients typically experience the benefits of a more precise and exacting surgery, a less invasive procedure, shorter hospital stay and faster recovery with robotic surgery.
Leading Advances in Treatment for Skin Cancers
Dr. Vadim Gushchin leads a multidisciplinary team of experts at The Melanoma and Skin Cancer Center at Mercy to treat a wide range of skin cancers. He offers expertise in the Isolated Limb Infusion technique, a treatment aimed at preserving an arm or leg that has been aggressively attacked by skin cancer. Isolated Limb Infusion, also known as ILI, offers patients a remarkable alternative approach to metastatic melanoma on a limb. This type of skin cancer commonly leads to amputation or a disfiguring result. Dr. Gushchin and his patients know this doesn't always have to be the case. Isolated Limb Infusion provides the chance to save patients' affected arms and/or legs, reduce or shrink the cancerous tumor, and avoid the need for a more radical surgery.
Advancing Oncology Care & Education at Home and Abroad
Ongoing medical education, clinical training and in-depth study are key to continuing the drive toward improved surgical treatment options and long-term patient survival. Dr. Gushchin takes an active role in education and training on a national and international level.
He leads Mercy's Surgical Oncology Fellowship Program and also serves as Director of the Surgical Oncology continuing medical education program, bringing together many of the best cancer experts from Maryland and across the United States. This think-tank advanced training initiative draws surgical oncologists, medical and radiation oncologists, and other cancer doctors from the Mid-Atlantic region and around the world.
Dr. Gushchin has been a leader in addressing global disparities in oncology care and education. He founded the Higher School of Oncology in Russia in 2015, which supplements traditional training with modern oncology concepts to improve care for cancer patients. The program has successfully graduated more than 50 residents.
Surgical Oncology Offices In and Around Baltimore
Dr. Gushchin and the Mercy team of surgical oncology doctors have offices at Mercy Medical Center's Main Campus in Downtown Baltimore. They also see patients for pre- and post-surgical office visits at Mercy's Community Physician Sites around the Baltimore beltway.
Education & Fellowships
Fellowship – Roswell Park Cancer Institute, Buffalo, New York
Residencies – Moscow Hospital, Russia; The Hospital of the University of Pennsylvania, Philadelphia, Pennsylvania; and The Washington Hospital Center in Washington, D.C.
Medical Degree – Russian State Medical University, Moscow, Russia


Associations & Memberships
American College of Surgeons
Society of Laparoscopic Surgeons
The Society for Surgery of the Alimentary Tract
Association for Academic Surgery
North American Neuroendocrine Tumor Society (NANETS)


See a list of insurances accepted at Mercy. Restrictions may apply. Patients should confirm coverage with their carrier prior to appointment date.