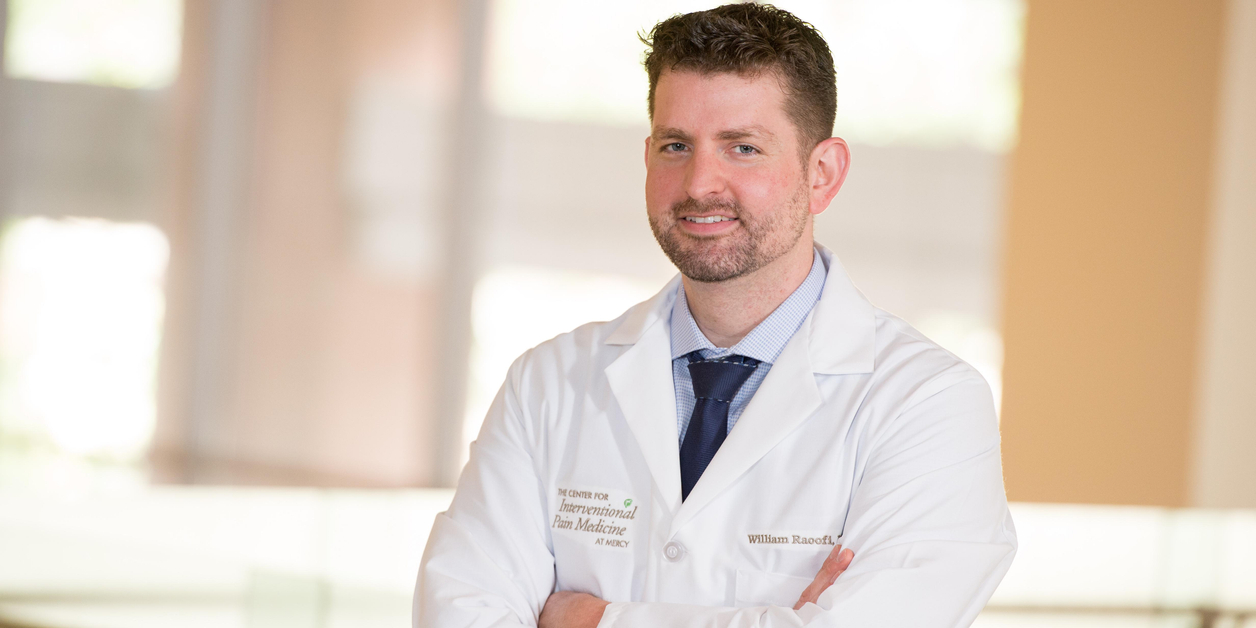 Specialty:
Interventional Pain Medicine
Board Certifications:
Pain Medicine
Physical Medicine and Rehabilitation
Locations:
The Mary Catherine Bunting Center at Mercy
Mercy Personal Physicians at Glen Burnie
Mercy Personal Physicians at Lutherville
SurgCenter of Towson
William Raoofi, M.D.
William S. Raoofi, M.D., is a Board Certified pain management specialist with The Center for Interventional Pain Medicine at Mercy Medical Center in Baltimore. Dr. William Raoofi utilizes leading edge treatment options to alleviate and manage chronic pain in patients caused by cancer, orthopedic disorders and related conditions, including:
Fellowship-Trained Interventional Pain Doctor
Dr. William Raoofi is a Fellowship-trained physician in Interventional Pain Management and has been recognized as a "Top Doctor" by Baltimore magazine. He completed specialized training in the evaluation, diagnosis and treatment of patients experiencing chronic pain and related symptoms. He utilizes the Center's state-of-the-art imaging and diagnostic equipment, along with minimally invasive treatment procedures and techniques to alleviate pain.
Dr. Raoofi has a special interest in neuromodulation – a form of pain reduction therapy that utilizes technological devices that alter pain signaling in the body to reduce pain and improve function. These types of therapies may include:
Peripheral Nerve Stimulation
Multidisciplinary Approach to Improve Quality of Life
Dr. Raoofi believes in a multidisciplinary approach and a care philosophy that emphasizes quality of life. He works in close collaboration with fellow pain management specialists, Drs. David Maine, Harrison Linder and Teresa Tang within The Center for Interventional Pain Medicine. He believes strongly in the integration of physical therapy alongside treatment plans to improve outcomes, and he works together with a broad range of specialists throughout Mercy's Centers of Excellence to develop a tailored approach to care that meet the needs of each patient.
Author, Presenter and Academic Scholar
Dr. Raoofi has authored peer reviewed journal articles and abstracts for the PM&R Journal of the American Academy of Physical Medicine and Rehabilitation (AAPM&R) and The Journal of Arthroscopic and Related Surgery. Dr. Raoofi has made presentations at pain management conferences and is the recipient of numerous awards and honors including the SUNY Upstate Patient Satisfaction Gold Star Award and The Chancellor's Circle of the Legacy of Excellence Scholarship.
Education & Fellowships
Fellowship - Interventional Pain Management, SUNY Upstate University, Syracuse, NY
Residency - Physical Medicine & Rehabilitation, SUNY Upstate University, Syracuse, NY
Medical Degree - St. George's University School of Medicine, Grenada
Associations & Memberships
International Association for the Study of Pain
Association of Academic Physiatrists
American Association of Neuromuscular & Electrodiagnostic Medicine
American Academy of Physical Medicine and Rehabilitation
American Society of Regional Anesthesia and Pain Medicine
North American Neuromodulation Society
Spine Intervention Society
See a list of insurances accepted at Mercy. Restrictions may apply. Patients should confirm coverage with their carrier prior to appointment date.